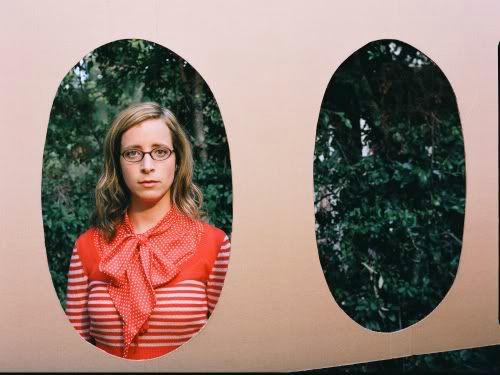 Jeg har et eller andet med lidt sørgmodige kvindelige sangerinder, og derfor er den 36-årige sangerinde Laura Veirs fra Portland gået lige i hjertet på mig! Jeg havde ikke hørt om hende før hendes nye cd "July Flame" udkom for nylig, men da jeg havde hørt albummet igennem en enkelt gang, var jeg solgt. Musikken hører under genren (moderne) folk, og lyden er drømmende, trist og minimalistisk, og emmer af stille sommeraftener. Nu er vi så heldige, at Laura Veirs og band gæster
Loppen
imorgen onsdag d. 10, en koncert jeg meget nødig vil gå glip af! For hvad er mere tiltrængt lige nu end en aften i selskab med en fantastisk vokalist og sange, der lader én drømme sig frem til sommeren?
I only recently discovered the American folk singer Laura Veirs, and I haven't stopped listening to her new album "July Flame" ever since. She is playing with her band at

Loppen

tomorrow night, a concert I really don't want to mis

s! If you can't go to the concert you should definitely check her out anyway.